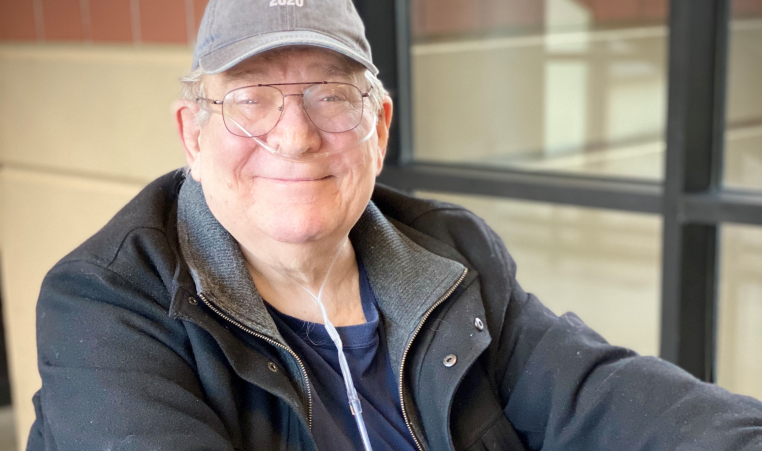 John stopped by the Y-SHC to pick up his weekly pantry pack, a collection of helpful supplies. He was also able to get a grab-n-go dinner and two rolls of paper towels from a recent Food Bank of Iowa donation. John said to tell all staff hello from him; he recently celebrated his 78th birthday and was delighted to receive a birthday card from us. John said that he loves the Y and that he will never forget about all we have done for him, "I wouldn't be here without you."
On February 28th of this year, John moved into an apartment supported by our Graduate Program. Graduate residents live off-campus, but are surrounded by our support services as they begin their next chapter. "The timing was perfect because everything was shutting down in response to the coronavirus.
"I live at Plymouth Place and couldn't be happier with my surroundings. I have a southern facing view and from my window I can see a flag and Plymouth Congregational Church. These light up at night. I can't tell you what this does for my spirit. It inspires me.
"So many things are positive for me. The staff here are attentive and helpful. I am self-isolating for my health, so they knock on my door to check on me. They bring packages to the door. I have a full kitchen and lots of space. There's internet and basic cable, so I'm able to stay connected with all the things I care about. People here are my age and we all understand each other really well. We're a tight-knit group.
"The derecho we had was a new experience for me. In Oklahoma, we'd have the power go out, but never for more than an hour or two. This power outage was for days. It endeared me to this place even more! They had emergency lights on in the hallways, so I was able to prop my door open and see enough to get around my apartment for the basics."
John, an Air Force veteran, came to Y-SHC in January 2018 through a referral from the Veterans Administration. He had been living in Oklahoma, but the break-up of his marriage and a devastating flood left him without a home of his own. For several years he relied on the friendship and hospitality of a neighbor. In 2017, his health began to fail and he feared he had come to the end of his life.
In the spring of that year, John received a surprise phone call from his daughter and son-in-law. They told him they were working on a plan to bring him to Des Moines, where he had lived many years before. John will never forget that this life-changing phone call came on Easter Sunday. While some might view that as a mere coincidence, John sees it as evidence that God was taking a hand, leading him to his own "rebirth" with the help of family and the VA.
"The Y helped me to improve myself. I am very grateful for that period of growth. The apartment was just the right size, the groups and classes encouraged me and I know the staff cares about me. It's all working out! I still have friends at the Y-SHC and they recognize me when I stop by to pick up supplies. The good feelings I have overcome any sense of isolation or depression creeping around. I see God's hand in this.
"I have goals into next year that I have every confidence I can achieve. They are reflective of my values and priorities. The first is to make it to the election. I want to make the world a better place for my family, who have a real good shot at having a great life even when I'm gone. The second goal is to teach all my great-grandchildren how to play the guitar. I'm getting back into music because my attitude is sky high! I keep my guitar by my bed and my thoughts are coming to me about this outlet God gave to me. I'll be remembered by my family for my music and it is the keynote of our family time together.
"I have made my peace. I have my family, my church family, the Y and my new apartment community. Many people encourage me and offer their love and prayers. I succeeded! I am a Graduate!"