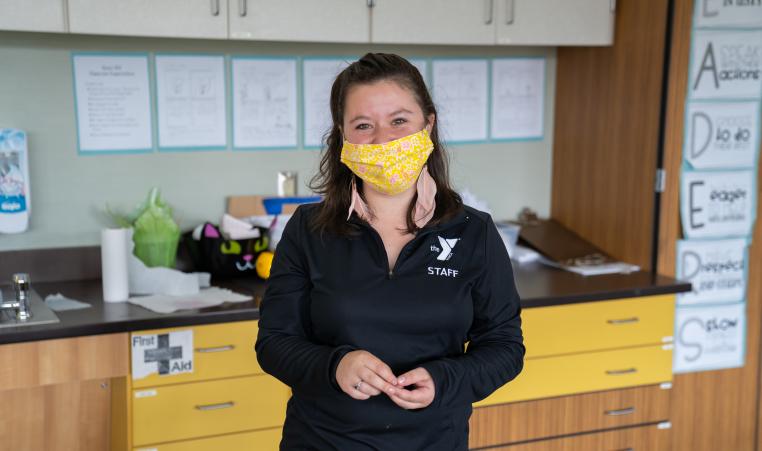 The last 12 months have been unlike any other. As the coronavirus pandemic, racial inequality and political tensions consumed our lives, it was difficult to find anything that didn't change. We're forever grateful for our annual fundraising campaign that returns every year, even when life at the YMCA changes.
It's tradition. We look forward to the last Tuesday in January every year. Months of planning and hard work culminate in the kick-off for our staff and volunteer campaign teams. They work hard to understand the most pressing needs for our community right here in Central Iowa.
Families & Students
You don't have to go far to realize that families need support in juggling the demands of hybrid learning and full-time jobs. Virtual Learning Support and afterschool care through the Y have been key in strengthening families this year. These vital programs provide space for kids to engage in activities that promote life-long skills while allowing parents to find some work-life balance.
Community Health
It's more important than ever to have a place like the Y where everyone can grow stronger in spirit, mind and body. Money raised during the Annual Campaign opens the door for all to belong to the Y — no matter their financial status. This act of generosity not only supports physical health, but also the mental and social health of our members.
Youth Sports
Giving kids the opportunity to safely return to YMCA team sports, equal playing time in a fun and supportive environment keeps them engaged and motivated to tackle schoolwork. From youth basketball to youth swim team, taking time for play helps every player reach their full potential.
Open the Door
We are proud to be part of your community, but we need your support. Our volunteers have started their phone calls, virtual coffee chats and Zoom meetings to raise the needed $1.3 million. Will you (virtually) open the door for them and pledge to support the Y? This selfless act will in turn open the door to those in our community who most need the Y.
It's tradition. For 152 years, this has been the way of the Y—asking our neighbors, friends, members and community to support the Y with a personally significant donation. Together, we continue to strengthen the foundation of our community by keeping the Y accessible for all, and we're forever grateful for that.
Give today. For a better us.